Mini-ITX/Micro-ATX based system
Or you can build a superb and whisper quiet Virtual Reality machine using Mini-ITX and Micro-ATX motherboards along with GPU's from NVidia and AMD coupled with a water cooled Intel or AMD CPU.
Here I go into depth on the case for PC and also Raspberry Pi options
Here I discuss the V2 prototype and the performance that enable a powerful Virtual Reality system.

Testing temperatures in PC version
This video runs through stressing the computer in the case and showing the temperature changes and how I set up the system. Important to note the ambient temperatures was very high so it is the difference between ambient and under load that is important and this explains how well the internal cooling works. However, as I always stress this is not an over clockers case and we recommend you use the water cooling option for the CPU to get the best user experience, if not then a low profile fan option.

GPU Selection
We have worked hard to ensure that this design gives you the best experience. However, this is not a case for heavy overclocking, if that is what you are after please buy a tower, unless you fully understand how to get the best setup to enable over clocking in a small form factor case. To get the best from this system you must select a blower style GPU from either NVidia or AMD. The case is designed to take air from the front of the case into the fan and then exhaust at the rear of the case. Any residual heat in the case is removed by the rear panel trio of quiet fans, but cannot cope with heat from incompatible type. Also note the lower list may not fit either.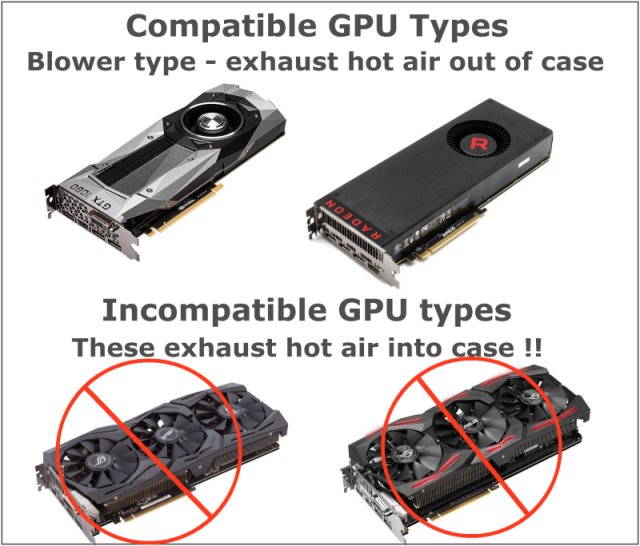 Sound Levels
This image shows the very low, almost silent nature of this system with a GTX1080 GPU and water cooled i3 Quad core CPU at idle and under load. Please note the water cooling unit is rated up to extreme i7 if your budget is sufficient.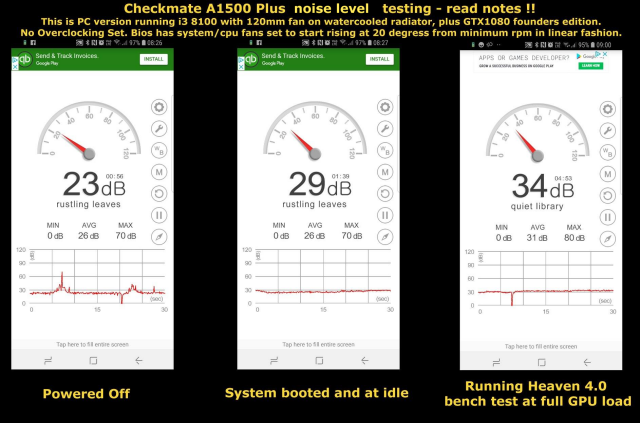 Amiga Forever, AmiKit and Workbench
All systems can be supplied with the latest Amiga Workbench, and if running the PC version with Linux or Windows then this can be run front and centre disguising the host operating system until you need it giving you the best of both worlds through an amazingly stylish Amiga emulation layer.

Case Types - Checkmate A1500 Plus
Because of the modular design the main difference is the rear panel but there are also subtle differences in the fixing pack hence two clear choices. Both are available in black and white and options can be added before shipping.
Please note, by purchasing this case you are aware that it is a self assembly system and whilst we will provide plenty of tutorials on the subject, you must be capable of assembling computers. If not, we will be happy to discuss supplying ready built systems at extra cost.

PC Version
Basic Version with Micro ATX / Mini ITX Horizontal slots, again you will be asked which version back panel you want. A screw pack will be included with all fixings. After the campaign success you will be asked to confirm which rear panel you want regardless of version. You will be able to purchase extra rear panels. You may be able to change colour unless packaged and ready to ship. However, if going from black to white, it will depend on stock as white is expected to be a limited run, but we will see. The physical dimensions of the case are Width 431mm x Height 104mm x Depth 385mm. Note the keyboard riser adds 40mm to the height. A screw pack will be included with all fixings.
Important, please note that the injection moulded plastic parts will be UV resistant materials and as such will not yellow with age !!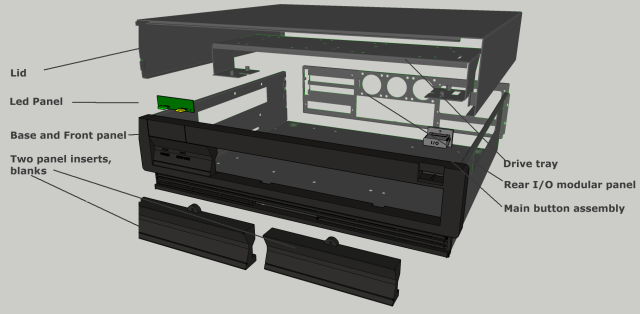 Optional extra modular rear panels
When ordering you will get one of these, however extras can be ordered for £25 each.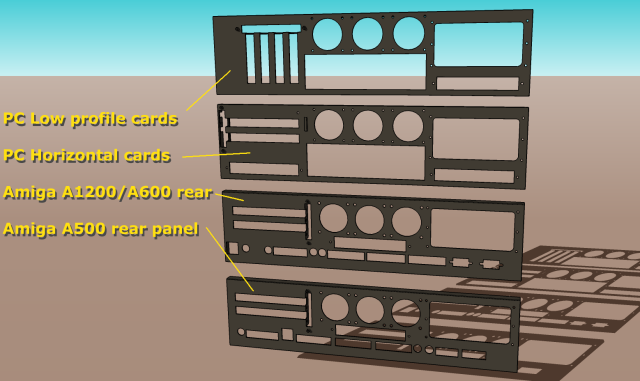 Drive bay panel cover options
These are the standard available options when the campaign completes, the second picture gives an example of another version planned for a stretch goal. Each pack will come with with two specific panels but extras can be ordered at £5 each. These will match the colour of the case you have ordered. Please note that others may appear over time and the designs are available to allow modification and 3D printing of you own panel covers and support.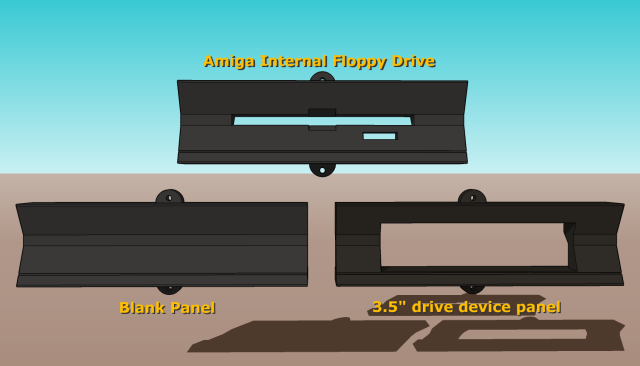 If the stretch goal option is met then these panels that suit the LG GS40N Slot load internal drive will have an injection mould made to enable purchase for £5 each. If not then they will be available on our Shapeways page for around £35 as a 3D print or download design and print yourself.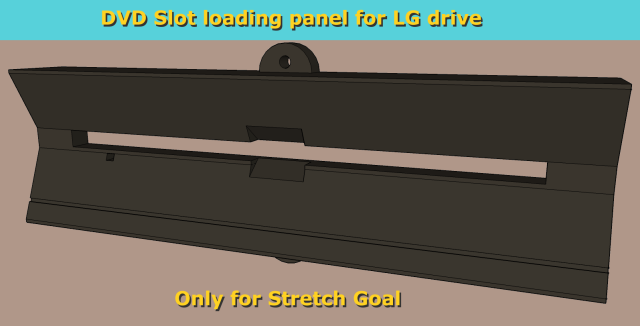 Example of all of the panels if stretch goal met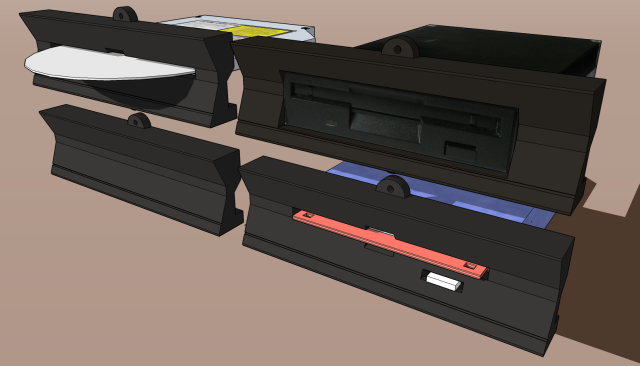 Optional keyboard risers to make a garage
These risers match the colour of the case and are priced at £15 per pair.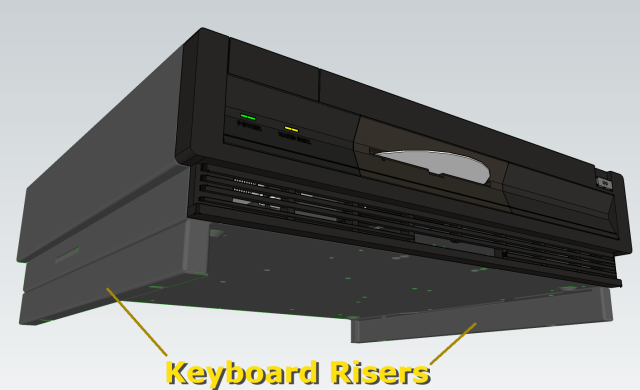 Colours of Case
The Oyster white actual colour was chosen by public poll.